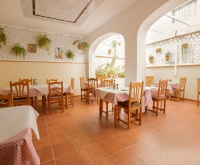 A true home made dining experience!
Our restaurant offers a wide selection of Mediterranean dishes, all home-made to ensure the highest quality and taste of an authentic Andalucian cuisine.
You can enjoy a tasty selection of starters, main courses , drinks and desserts from our daily menu for lunch and dinner.
You can also choose dishes from our menu, where you can mix the different flavors and create a dish to your measure.
Our Bar is open from morning and will offer you a wide range of breakfasts, drinks & cocktails.